This is a sponsored post on behalf of Schwinn. All opinions are my own.
I remember going on family bike rides when I was a kid – we'd ride around the neighborhood, than the bike path, and eventually my Dad & I were taking 20 mile treks to my Aunt's a few towns away. I always assumed I'd be the same way with my kids, but when my girls were younger we lived in an apartment on a busy road – and I was working and in school. Needless to say my girls were quite a bit older when they finally learned to ride their bikes, and I made myself a promise that I wouldn't do the same to my son.
We've been practicing when it's nice out (rain, rain, go away!) and when he's not at ball practice. He's determined to be able to go on the bike trail and keep up with his sisters this summer.
Though I want him to learn and be ready to go on some bike trips with the rest of the family – safety is first. In fact Schwinn has some key basics they want to share with you about biking with young riders.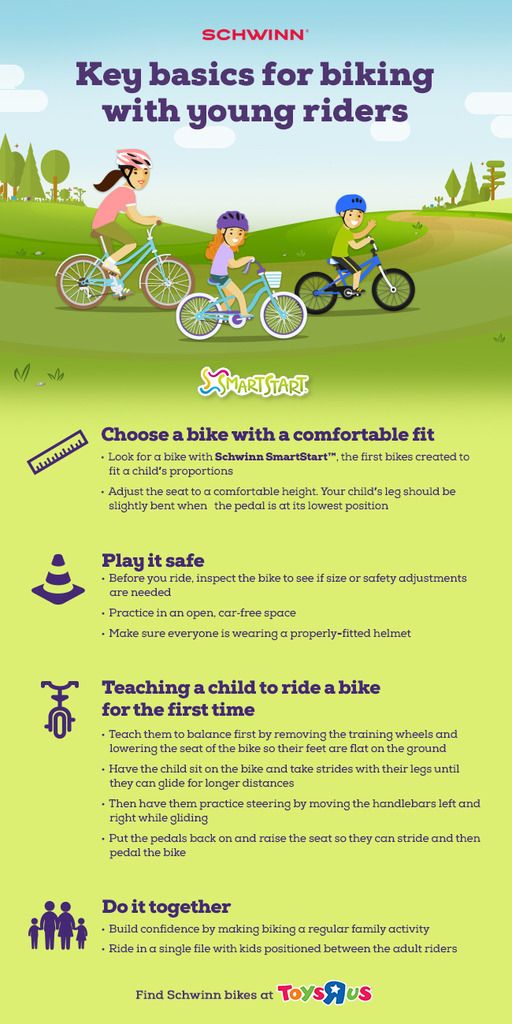 Schwinn has always been a leader in the bicycle industry, and I was so excited to hear about the new Schwinn SmartStart bikes.
The boys Schwinn Burnout bike is 16′ and a great choice for a new rider (you can check them out, or pick up one of your own at Toys "R" Us)  It's got a great design that every kid will love and bonus benefits not offered on other bikes. This bike was designed in mind to keep the little biker comfortable so that they can focus on learning to ride instead of being frustrated and uneasy on a bike that just doesn't feel right. With the Schwinn Smart Start you get all these great benefits:
16" wheel size – classic learn to ride size.

Easier to learn to ride-better balance

Safer because less wobble

Light-weight for stability

The seat is shaped and sized to fit a child

When a SmartStart seat is raised to fit a growing child, the distance from the seat to the handle bars increases. This increases the reach distance and will allow the bike to grow with them

The grips are smaller for smaller hands

The geometry matches the pedal width to a child's hip width

Like all Schwinn bikes, SmartStart bikes have a limited lifetime warranty for as long as you own the bike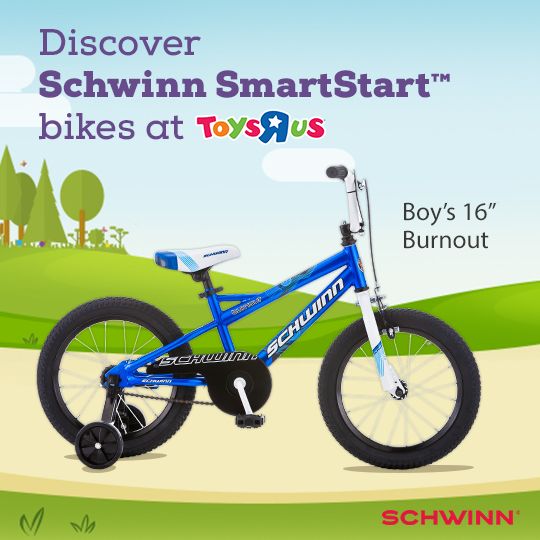 Want the chance to win a Schwinn prize pack for your family?
Enter the sweepstakes below for your chance to win!!