This is a Sponsored post written by me on behalf of Kaeng Raeng for SocialSpark. All opinions are 100% mine.
It's official; no matter how much I want to deny it, Spring is here and the anxiety of getting into my summer clothes and – GASP– bathing suit , is upon me. Though I've been working out, and trying to eat better, I'm not there yet. With less then 45 days until Summer Vacation I decided I needed to detox my body from all the stuff I just couldn't lay off of -(you know sweets and pop and all that horrible stuff). That's why I decided to take the 3-day cleanse by Kaeng Raeng.
The Kaeng Raeng versions are different from the programs of fresh juicers. These are packets of what is mostly dehydrated fruit plus essential nutrients, including lean protein and probiotics. You just add water, drink three a day and you've got all you need to keep your mind and body going. It's all natural, vegan, gluten-free, and GMO-free. Also, it's made in California from local produce and contains no artifical colors, flavors, or preservatives. It's just pure, good stuff. 
With this detox you won't starve – you are encouraged to add fresh fruits and veggies to your smoothie, and even eat them when you are hungry between drinks. (As a person who misses choosing, this is awesome!)  I love adding fresh strawberries to my FAVORITE flavor reunn 'joyful' which has the following flavors: strawberry/raspberry/pineapple. I am usually rushing out the door to get to work, so throwing in some frozen strawberries in the mix in my Blender Bottle and I was ready to go!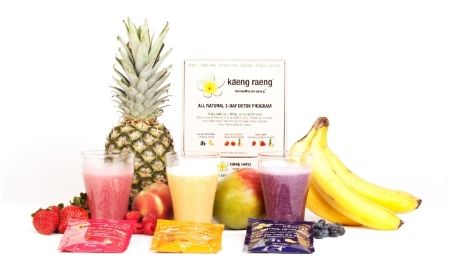 Another thing to like about the Kaeng Raeng detox is that beginners can still supplement with eating raw fruits and vegetables, so if you get the urge to eat, you're still on the track to detoxing.
It's important to note here that this isn't a weight loss plan. What a cleanse does for you is sort of hit a reset button on your body. Generally speaking, three days on this plan should help you to feel better and crave less junk food.
Because the dehydrated fruits are fortified with protein and vitamins and other essential nutrients (in natural forms), you're not depriving your body of anything. So it's a lot healthier than fasting or following a DIY cleanse without guidance from a nutritionist.
BONUS! Best side effect EVER is improved skin. By abstaining from traditional foods, especially dairy, filling your body with quality nutrients and vitamins will give your skin a nice glow after the 3 days!
Kaeng Raeng was made with YOU in mind. It comes in 3 day or 6 day programs in 3 different levels.  Beginner (First time user) Vetern (at least 1 cleanse) and Master (keep on coming back for more!) It's also available in a soy-free option. Take the quiz to find out which one you are:
All in a Day's Work Readers get a special discount – Discount Code: ADaysWork10 expires: 5/23/14
Check out Kaeng Raeng on Facebook  or  purchase Kaeng Raeng on Amazon
Who wants to win a Kaeng Raeng Swag Bag? Comment below letting me know if you've tried a cleanse before, and what were the pros and cons? Winner will be chosen from all eligible comments on 4/29